Welcome to Christmas Traditions Tree Farm!
Best Tree Prices Around
2017 Christmas Season - updated 12/11/17
The holiday season is a very special time of year, and we feel very blessed to be a part of your tradition. We look forward to seeing you and hope that the past year has been good to you and your family. We invite you to take a short drive to the country and explore our assortment of amazing Pines and fresh-cut Firs in several popular varieties along with a limited supply of choose-n-cut White Pine trees. The white pine is among the best-selling Christmas trees in America. It is valued for it delicate appearance and excellent needle retention and a top choice for people with allergies. As always, we offer a treasure-filled gift shop and Santa for wonderful family photos.
We hope that you'll visit us and find the perfect tree for your home. Our gift shop is bursting with new items including spectacular ornaments to grace your Christmas tree, beautiful holiday home décor, special and unique gifts for family and friends that includes high-quality, hand-crafted jewelry that's kind to your budget along with fresh wreaths, and so much more! To satisfy your sweet tooth, we offer tasty, home-made treats along with hot dogs, chips and a variety of beverages. Well-mannered pets are welcome on a leash. We gladly accept credit card and cash payments.
Remaining 2017 Days & Hours of Operation – Open 10 am to 5 pm

Bonus Weekend:
Saturday, December 16
Sunday, December 17
Farm Amenities
Free

Visit with Santa – Don't forget your camera! (Hours: 10 am to 5 pm)

Free

Hayride

Free

Candy Canes

Free

Coloring Sheets

Free

Hot Chocolate

Free

Shake-n-Bale

Free

Twine

Saws Available

Heated Gift Shop – Santa, Treats, Kid's Korner, Holiday Decorations & Gifts

Indoor Bathroom

Hotdogs - Cookies – Snacks – Bottled Water - Soda
Christmas Trees: Best Prices Around!
Choose and Cut Trees
<![if !supportLists]> ˇ <![endif]> White Pine 6 - 8 ft. $8 per foot

Fresh-Cut Trees
<![if !supportLists]> ˇ <![endif]> Scotch Pine 6 - 8 ft. $8 per foot
<![if !supportLists]> ˇ <![endif]> Douglas Fir 6 - 8 ft. $10 per foot
<![if !supportLists]> ˇ <![endif]> Canaan Fir 6 - 8 ft. $10 per foot
<![if !supportLists]> ˇ <![endif]> Balsam Fir 6 - 8 ft. $10 per foot
<![if !supportLists]> ˇ <![endif]> Fraser Fir 6 - 8 ft. $10 per foot
<![if !supportLineBreakNewLine]>
<![endif]>
Please "like us" on Facebook – Christmas Traditions Tree Farm.
Merry Christmas!
Joe, Jennifer, Kaitlyn and Alyssa
Christmas Traditions Tree Farm
25882 S. Lohman Road
Wright City, MO 63390
---
Christmas is a magical time of the year. A time when families come together to celebrate the holiday season. Childhood memories of family outings in search of that special tree last our whole lives. When you share that Christmas Tradition with your loved ones, it too will become a treasured memory that lasts a lifetime!
We invite you to create cherished memories with us at Christmas Traditions Tree Farm. Our choose & cut tree farm was established in 1996 and is family-owned and operated. We are located in Warren County, MO just 30-minutes west of St. Charles off Interstate 70 serving the greater St. Louis metropolitan area.
We pride ourselves in offering value priced quality trees, wreaths, roping, swags, centerpieces, and other specialty items made from fresh cut greens. Visiting our farm is an affordable fun-filled family destination which includes a free hay ride to and from the field, where you and your family can select and cut your own tree, free visits with Santa (don't forget your camera), free coloring sheets, free hot chocolate, free candy canes, and a Gift Shop filled with treasures and gifts for everyone on your list! For additional information click Visit Us.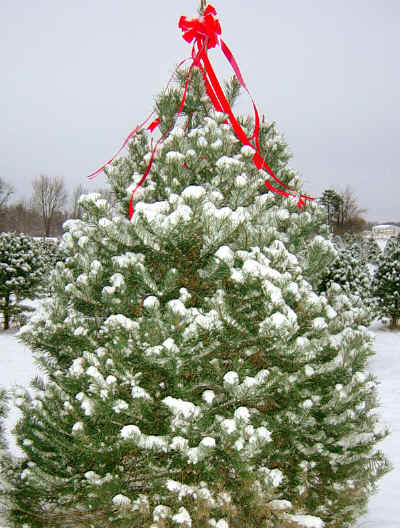 ---


Have questions? Need help?
We would be glad to help you; simply contact us (636) 745-7488.
Be sure to visit our site often to see what's new.
---




Christmas Traditions is a member of
the Missouri Christmas Tree Association,
the Mid-America Christmas Tree Association
and the Captain Jack's Christmas Tree Farm Network.